Friday, November 13, 2020 / by Vinny Steo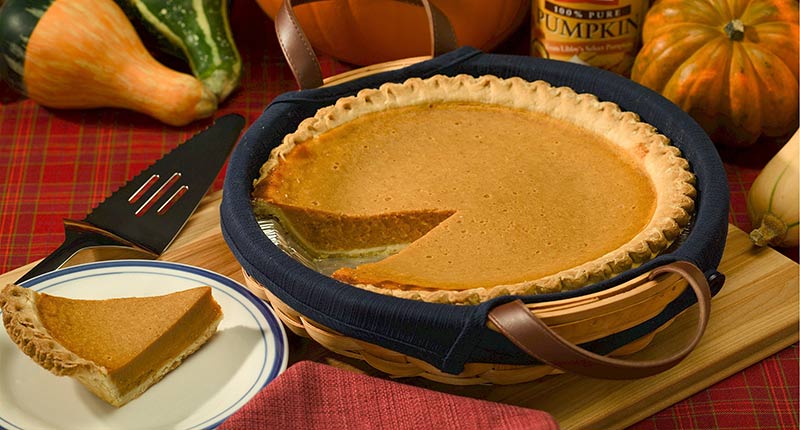 Active Time: 10 Minutes
Total Time: 35 Minutes
Yield: Makes 8 servings
Apple butter lends its fruity flavor to this harvest pie. If you have pumpkin pie spice on hand, use 2 teaspoons of it in place of the cinnamon, ginger, and nutmeg called for in the recipe. To make the leaf decoration shown here, prepare pastry for a double-crust pie.
RECIPE INGREDIENTS
1 cup canned pumpkin
1 cup apple butter
1/3 cup sugar
1 teaspoon ground cinnamon
1/2 teaspoon ground ginger
1/2 teaspoon ground nutmeg
3 eggs
One 5-ounce can evaporated milk (2/3 cup)
1/2 cup milk
Pastry for Single-Crust or Double-Crust Pie
whipped cream (optional)


DIRECTIONS
In a large mixing bowl combine pumpkin, apple butter, sugar, cinnamon, ginger, and nutmeg. Add eggs; beat lightly with a rotary beater or wire whisk till combined. Gradually stir in evaporated milk and milk; mix well.
Prepare and roll out the pastry as directed. Line a 9-inch pie plate with pastry. Trim and crimp a high pastry edge or attach leaf-shaped cutouts. Pour pumpkin mixture into pastry shell. To prevent over-browning, cover the edge of the pie with foil. Bake in a preheated 375 degrees F oven for 25 minutes. Remove foil and bake about 25 minutes more, or till a knife inserted near the center comes out clean. Cool on a rack for 1 hour. Chill 3-6 hours before serving. Store in the refrigerator. If desired, serve with whipped cream.