Thursday, April 16, 2020 / by Vinny Steo
Median sales prices reached ten-year highs in Washington D.C. and Baltimore Metro Areas. New listings inventory continues to retract.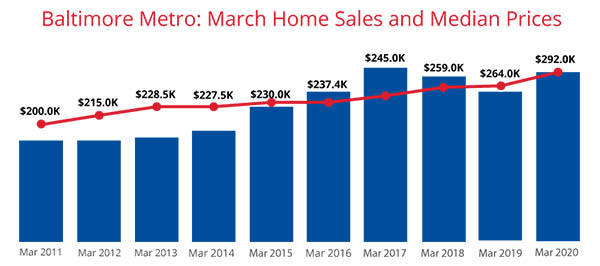 The Baltimore Metro area celebrated its best March median home price in the past ten years. It is also one of the top five months in the past ten years for both detached home prices (#3, $371.0K, up +12.5%) and attached home prices (#5, $220.0K, up +4.8%).

Detached homes in Howard County sold for a new 10-year overall high of $560.0K, up +3.7%.

Closing volume fell just under the March 10-year high set in 2017 (3,288) by less than 100 homes. Detached home closings (1,674) gained +10.9%, falling only 50 short of the March 2017 monthly high.

Anne Arundel detached home sales leaped +28.0% year over year, pushing the month to a new March 10-year best.

Anne Arundel County also set an overall 10-year low for days on the market, coming in -19 days under last year.

COVID-19 related restrictions enacted this month impacted new pending volume, as the month saw the area's smallest February to March growth in new pending home sales (+7.7%) in the past ten years.

Baltimore Metro saw a -11.1% drop attached home new listings. Month to month, new listings improved +21.4%, below the average February to March gain of +41.2%.

Anne Arundel endured a -19.3% year-over-year loss for new attached home listings. New listings in Pasadena (103) came in -24.8% under a year ago
The Baltimore Metro Area housing market includes the City of Baltimore, Anne Arundel County, Baltimore County, Carroll County, Harford County and Howard County in Maryland.
**Source Bright MLS**