Tuesday, June 1, 2021 / by Vinny Steo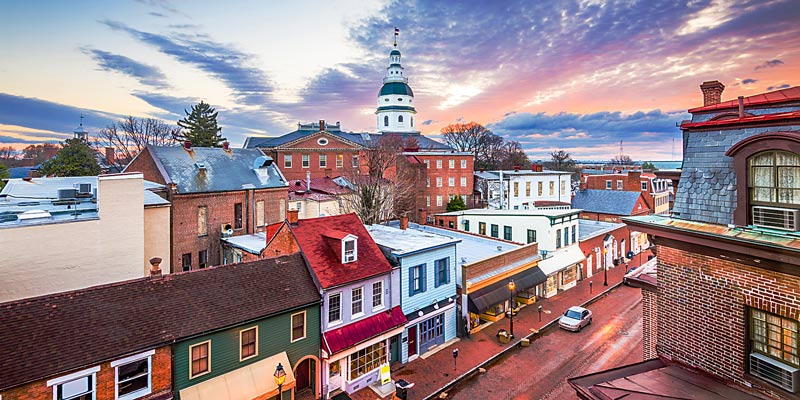 Annapolis is the state capital of Maryland. It's located on the Chesapeake Bay, 25 miles south of Baltimore and 30 miles east of Washington, D.C. Annapolis is a white-collar city with some of the most expensive homes in America. The city is full of professionals, service providers, and managers. Although a large percentage of the workforce tends to work in fields using computers and math, Annapolis also has more artists, designers, and people working in media than 90 percent of communities in Annapolis, which makes it unique. The city tends to attract young, educated professionals.
Annapolis originally started out as "Town at Proctor's," then "Town at the Severn," and later "
Anne Arundel
's Towne" (after
Lady Ann Arundell (
1616–1649). She was the wife of
Cecilus Calvert, second Lord Baltimore
, who died soon afterward). The town was later renamed Annapolis after Princess Anne of Denmark and Norway who would soon become Queen Anne of Great Britain. It was incorporated as a city in 1708. Although 17-century Annapolis was little more than a village, the city grew rapidly for most of the 18
th
century until the Revolutionary War.
It was a political and administrative capital, a port of entry, and a major center of the Atlantic slave trade. It even became the first temporary capital of the United States after the Treaty of Paris was signed.
Things to Do
Population

:
40,113
Schools
Major Employers
Fun Facts
Annapolis served as the seat of the Confederation Congress (former Second Continental Congress)
Annapolis also served as the first national capital of the U.S. in 1783 and 1874. During this time, General George Washington came before the body convened in the new Maryland State House and resigned his commission as commander of the Continental Army.
Annapolis is home to the Naval Academy, which was founded in 1845.
The city is one of the least populated capitals in the country.
Annapolis is one of the best places to go for crab in the entire world.