Wednesday, August 25, 2021 / by Vinny Steo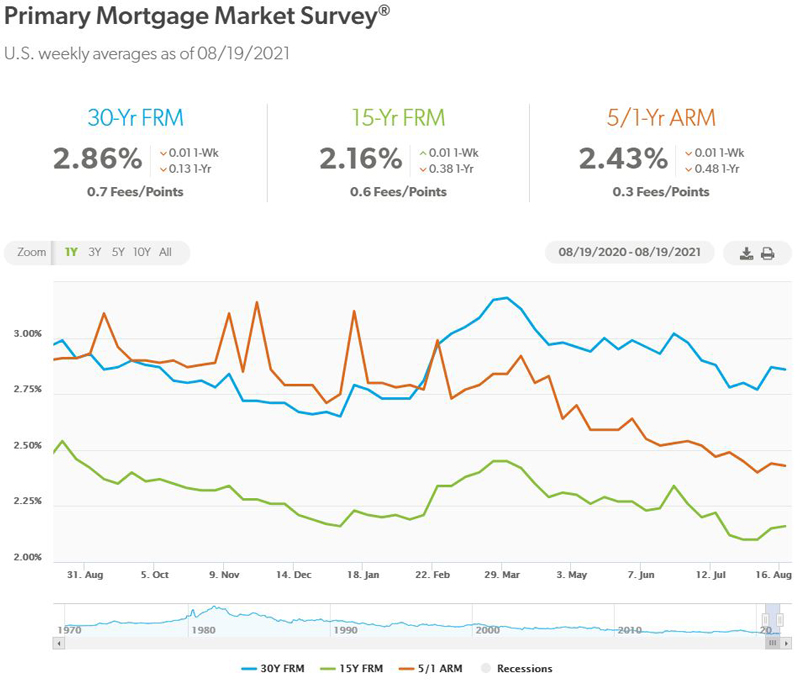 Home prices notched a third week at a single-digit pace after 50 consecutive weeks of growth in the double-digit range. This key buyer-friendly news is tempered by still record-high home prices. Additionally, data suggest that some of the apparent price moderation is due to a shift in what's selling now. In July we saw an increase in smaller homes on the market and the typical asking price of 2,000 square foot single-family homes, a benchmark size, continues to advance at a double-digit rate. The good news for homebuyers is that they may see more choices, particularly smaller homes for sale that are popular with first-time buyers. For sellers, although price growth has slowed, prices are still generally high. In other words, it's still a good time to sell, and that's likely to mean more homes hitting the market.
Weekly Housing Trends Key Findings
Key Findings:
The median listing price grew at 8.6 percent over last year, marking the third week of single-digit price growth after a 50-week streak of double-digit price growth. The upside for buyers is that listing price growth is now half April's 17.2% year-over-year pace and double-digit price gains seem firmly in the rearview mirror. The good news for homeowners and potential sellers is that despite a slowing growth rate, the median home listing price held its record-high in July at $385,000. We expect prices to ease as we head into fall, as they have historically, which means we may not see new all-time highs but are likely to see the highest prices ever for the fall and winter season.

New listings–a measure of sellers putting homes up for sale–were up 6 percent.

More homeowners continue to list homes for sale compared to a year ago. We've seen this trend in 18 of the last 21 weeks. Notably, while new listings continue to lag behind a more 'normal' 2019 pace, the gap is shrinking. By later this year we could see more homes coming up for sale than we saw in 2019. Even though homes continue to sell quickly thanks to high demand and limited supply, new listings are subtly shifting the balance of market conditions in favor of buyers.


Total active inventory continues to shrink and is now down just 26 percent from this time last year. Buyers will still see fewer homes for sale than last year, but the gap continues to shrink, getting smaller for the last 19 weeks in a row. At this pace, we are likely to see inventories begin to grow before the end of the year, a welcome relief for buyers.


Time on the market was down 18 days from last year. Homes that are in good condition and well-priced continue to sell fast. The typical active listing was on the market 38 days in July, just a day longer than June's record-fast pace. We expect the market to continue to move faster than last year. However, unlike in 2020 when homes sold unseasonably fast in the fall, our prediction is for a much more normal seasonal trend this year. That means we're likely to see some slowing ahead as fall arrives.


Realtor.com