Thursday, September 23, 2021 / by Vinny Steo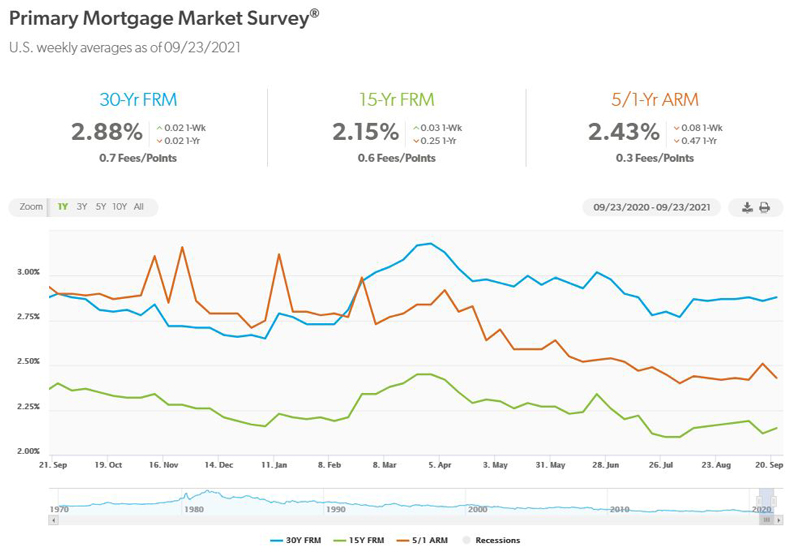 The housing market is at a turning point this fall. As activity settles back from the pandemic home rush, home sales appear to be plateauing at a higher level than before the pandemic while home prices continue to advance. Despite a limited number of homes available for sale and competitive conditions marked by fast-selling homes, many buyers have found a home of their own. Additionally, low mortgage rates have kept mortgage payments below historic highs even as home prices hit records.
The key factors that will determine whether or not housing maintains this plateau are buyers and sellers. While we have seen more homeowners decide to sell this year as health risks wane, the momentum appears to be fading. Additionally, builders are adding new housing supply, but much more is still needed. This suggests that homes for sale could remain in short supply. Meanwhile, the millennial generation continues to make its mark, forming households, buying first-homes, and increasingly buying trade-up homes. We'll see plenty of housing demand from this largest generation in the years ahead mediated by economic conditions. Looking ahead to next year, we could see waning affordability from rising home prices and potentially rising mortgage rates dampen demand as households struggle to make the numbers work. Conversely, we could see demand continue unabated if there is a rebound in income as the economy continues to grow, combined with policy shifts that enable young families to keep more after-tax income and enlarge their housing budgets. Either way, the housing market is likely to remain a key litmus test of how American families are doing.
Key Findings:
The median listing price grew at 8.6 percent over last year.

After last week's uptick, home price growth eased back this week but remains higher than is typical. Home prices continue to rise due to a mismatch between supply and demand. Part of this mismatch is due to chronic underbuilding that has resulted in a decade-long deficit of over 5 million single-family homes compared to households formed. Rising price growth has driven up the share of income it takes a typical household to afford a mortgage payment. This share is not at record levels, but it is approaching a level that's likely to affect buyer demand, and as home prices grow and mortgage rates begin to tick up, affordability will be a growing challenge.


New listings–a measure of sellers putting homes up for sale–were down 2 percent. The steady growth we observed in new listings earlier in the year has given way to more variability bordering on weakness. While new listings have grown compared to one year ago in 21 of the last 26 weeks, they've declined in 2 of the last 3 weeks. While we generally don't see most homeowners sell in the fall, we typically see more sellers in the early fall than later in the year. This usual pattern is one of several that creates an opportunity for diligent or flexible home searchers that we call the best time to buy.


Active inventory continues to fall short and is down 22 percent from a year ago. With new listings slipping this week, the market didn't make any headway on the inventory gap, which remained on par with last week's. As the week's progress and the trend in new sellers has weakened, it's becoming less likely that active inventory or the availability of homes for sale will catch up to last year's levels by the end of the year.


Time on the market was down 10 days from last year. Homes continue to move faster than one year ago, and as expected, the gap is narrowing. Last year, homes sold fastest in September and October, but we typically see the lowest time on the market in summer. This June, the typical listing was on the market for a record fast of 37 days, and we've seen that figure inch up by 1 day each month in both July and August. If housing follows its typical trends, which we expect, more slowing is likely in the months ahead; another reason that the best time of year to buy a home is coming up.
Realtor.com